Berk-Tek Leviton unveils extended reach 40/100-GbE OM4+ system
New end-to-end cabling system, color-coded in violet, increases data center design flexibility.
May 22nd, 2014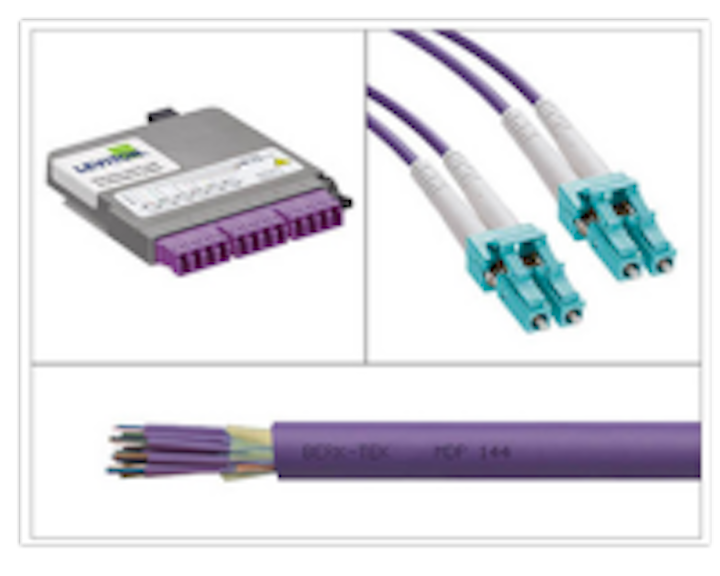 Berk-Tek Leviton Technologies (BLT) has launched a new fiber-optic cabling system with the ability to transmit 40/100GbE signals out to an unprecedented 300 meters when using standard 40GBASE-SR4 or 100GBASE-SR10 transceivers. Thanks to an improved optical link power budget, the company says its OM4+ Premium Violet Data Center System offers the industry's longest channels for supporting 40/100G Ethernet using multimode fiber.

"An OM4+ end-to-end system using cable with [our] GIGAlite-10XB fiber can transmit 40/100GbE signals out to 300 meters, encompassing almost all data center layouts. This is double the length capability of a minimally-compliant OM4 solution," points out Mike Connaughton, RCDD, CDCD, data center market segment manager at Berk-Tek. "For shorter lengths, the system also allows for increased connectors pairs, creating greater flexibility in the network."

See also: Google's 10 tips for better data center design

The new system's OM4+ cabling and connectivity components are color-coded violet to avoid confusion and channel loss that can occur when standard OM3 and/or OM4 fiber cabling is used in the same data center as OM4+ fiber cabling. The system's components, including violet trunk cables, harnesses, patch cords, MTP cassettes and adapter plates, comprise the first violet-hued end-to-end cabling platform in the industry, claims BLT.

"Color coding is an integral part of our industry, as it helps identify the performance of individual fibers, cables and connectors," comments David Mullen, Leviton's network solutions senior product manager, fiber. "The new violet color is an important step to help distinguish OM4+ from OM4 and OM3, or other legacy installations, ensuring data center managers get the highest performance from a Berk-Tek Leviton Solution."

Learn more about BLT's OM4+ Premium Violet Data Center System.