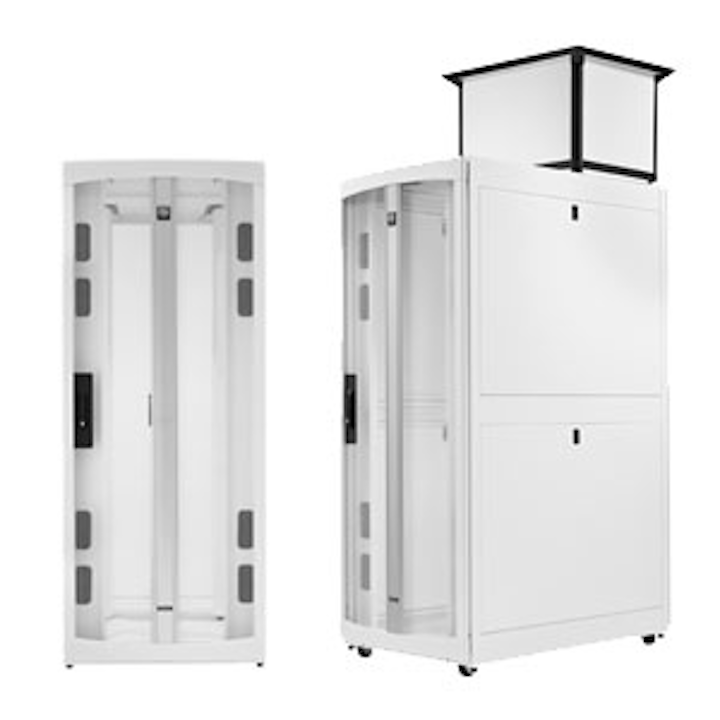 The newest generation of Chatsworth Products Inc.'s (CPI) F-Series TeraFrame cabinet updates the frame design, adds cabinet sizes and panels, makes equipment-rail adjustment easier and enables more-efficient airflow management, the company says. "Airflow and ease-of-installation enhancements make the TeraFrame Gen 3 one of the most advanced cabinets available," CPI said when it recently announced the improvements to its data center cabinet.
The company details Gen 3's enhanced capabilities as follows.
A wider vertical exhaust duct on 800-mm models improves airflow and allows for higher kW.
52U is available as a standard height.
The front door hinge design has been improved, and the spring-loaded hinge pin allows quick and easy door removal and installation.
Half-height side panels are easier to handle, decrease weight and reduce damage incidents.
The TeraFrame Gen 3 "supports up to 3,000 pounds and also meets the requirements of the new UL 2416 Listing," CPI said, "which requires standardized load testing. This cabinet has been tested to four times weight capacity."
The cabinet is ideal for high-density server applications, the company added. "It features a 6-slide frame style that supports rails mid-height, allowing increased load ratings and half-height accessories. The upgraded slide design and reduced hardware simplifies rail adjustment and can decrease labor requirements by as much as 60 percent."
The new cabinet continues to provide the thermal- and cable-management features of its TeraFrame predecessors and other CPI cabinets.