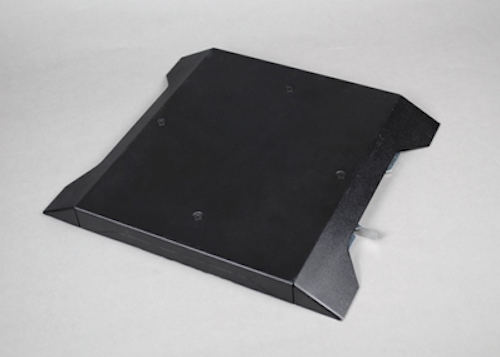 A new series of fittings for Legrand Wiremold's OFR series overfloor raceway system provides additional flexibility in installations where access through floors and ceilings is not an option. The OFR system provides four channels of capacity and access to communications, AV or power circuits.
The new features add to the OFR series' flexibility, Legrand Wiremold explains. The newly available features and fittings are as follows.
In-wall entrance end fitting – Designed so the raceway penetrates the wall through a flat, paintable plate. The feed fitting is configurable to one or two electrical channels and is hidden from view behind the wall.
Tee/cross fitting (pictured below) – Allows raceway to be branched to the left and right, in areas like large rooms or under long tables. A removable twistout creates a cross configuration that further extends the raceway.
Inside elbow – Provides a transition up a step, riser or onto a wall or table leg, while maintaining bend radius and protection of wires and cables.
Seam clip covers – An easily installable means of covering joints between raceway sections.
Large Vista Architectural Column transition fitting – Enables the OFR system to transition directly to Large Vista Columns, providing power and data feeds for open-space applications such as digital signage.