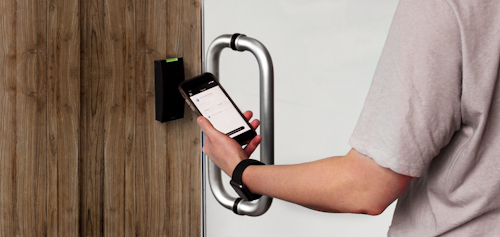 BioConnect
Toronto-based BioConnect's enterprise biometric authentication and security platform is designed to establish stronger trust in verifying a person's identity across physical, IoT and digital applications, providing exact identity assurance, advanced cybersecurity and protection of an organization's most vital assets.
Leveraging Multi-Factor Authentication (MFA) technology commonly used in digital security to confirm a digital identity, the company announced that it has now attached additional secure cloud services to the platform, optimized for enterprises looking to provide an enhanced layer of security to physical access, by serving a step-up notification to the requester's mobile device for door access. 
According to BioConnect, employing current IT tools for step-up authentication at the door means the planned, unified solution will allow an enterprise to verify a physical access request in conjunction with market-leading, pre-approved IT MFA solutions, like Duo, for mobile step up authentication across all physical access points.  
For areas requiring higher levels of security, BioConnect will now provide mobile biometric authentication at the door, utilizing the BioConnect ID mobile authenticator. BioConnect also continues to certify and integrate market-leading facial recognition and fingerprint biometric readers from Suprema Inc. into the BioConnect platform for physical access security. For unifying data across physical and digital solutions via the platform upgrade, data from physical security endpoints will also be brought into digital applications such as SIEM systems, and existing IT dashboards, allowing one single view for all access data, adds the company. 
"Enterprises care most about protecting their most valuable assets – their people, data and IP," asserts Rob Douglas, Chairman and CEO of BioConnect. "The physical security systems of yesterday don't have the intelligence and security that is demanded in today's workplace." 
For more information, visit www.bioconnect.com.