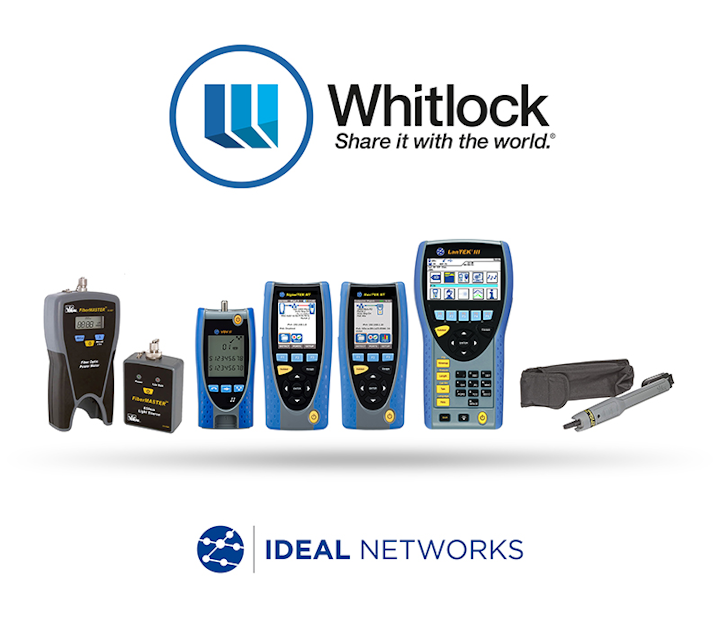 Ideal Networks
US-based AV integrator Whitlock has reportedly purchased a selection of testers from Ideal Networks to standardize and transform the way it troubleshoots cable.
Whitlock is a firm primarily focused on deploying conferencing systems, video collaboration training systems, audio signage and other AV systems. The company employs a team of around 200 technicians installing cable and devices, usually powered by PoE and installed on customers' VLANs over Cat 5e/6 cable. Without standardized cable testing equipment, ensuring its large team of technicians was installing with a consistent process was challenging, said Whitlock. With no set procedure in place for testing and troubleshooting Cat 6 cabling, and relying on a selection of equipment from different manufacturers, the quality of cable terminations performed in the field could vary.
"When working on large commercial projects, our technicians may need to verify the port and VLAN information in thousands of rooms, testing against multiple customer VLANs and checking numerous switches – this is a time-consuming process," explained Farrell Wood, Whitlock's national quality assurance and training manager. "On large scale installations, network contractors might also be making changes while our technicians are working on the AV integration, so what is correct one day, might not work the next," he added, while noting that this situation can cause delays while waiting for a customer or their IT department to fix the issue.
To overcome these challenges, Whitlock conducted extensive research around what test products would best meet its needs before deciding to purchase a selection of testers from Ideal Networks. The company opted for Ideal's VDV II copper cable testers to ensure that all relevant field technicians have ready access to their own tester for troubleshooting. As its quantity of work on networks is increasing, Whitlock also purchased Ideal Networks' NaviTEK NT copper and fiber network troubleshooting units, ensuring greater availability across all its U.S. offices. To further support cable installation and customer performance requirements, Ideal's SignalTEK NT network transmission testers and LanTEK III cable certifiers were also selected.
"With the VDV II cable verifiers, Whitlock has standardized and totally transformed the way they troubleshoot cable," comments Tim Widdershoven, marketing director at Ideal Networks. "There has been a marked increase in the consistency and quality of terminations, so technicians going on site to commission projects have far fewer termination errors to deal with, and having the right equipment from the outset saves a significant amount of troubleshooting time."
As well as proving useful for standard testing and wire mapping, Ideal Networks notes that its VDV II tester utilizes TDR technology to accurately measure cable length and provide distance to fault, helping technicians to ensure cabling is as correct as possible before the AV system is installed. This reduces guesswork, saving time and money. Meanwhile, Ideal notes that with its NaviTEK NT Pro CDP/LLDP/EDP Port Information capabilities, engineers can view detailed network information to easily verify port and VLAN information. This makes large-scale integrations and installations of voice and video services more time-efficient, even when multiple VLANs are present. (Previously, technicians would have to track down the client's IT or network team to find out which port or VLAN a device was connected to.)
"With NaviTEK NT Pro, Whitlock can also be much more proactive and efficient in informing customers what needs to be changed on a network in order that the AV system integration can be completed," adds Ideal's Widdershoven. "NaviTEK NT Pro also provides extensive reporting capabilities which will prove useful as an increasing number of AV systems migrate to networks."
As fiber-optic cabling and troubleshooting has become a bigger part of Whitlock's day-to-day responsibilities, the AV systems installation firm also incorporated other Ideal Networks solutions, including the company's VFF5 fiber optic cable visual fault finder; FiberMASTER light source/power meter; and FiberTEK III Tier 1 Multi-Mode fiber certification modules for LanTEK III.
"The guys love these testers – I wish we had more," asserted Jeff Jones, lead quality assurance specialist for Whitlock, explaining that feedback on Ideal Networks' products from Whitlock's engineers and technicians has been overwhelmingly positive. "Everyone has found the transition to the range of testers to be very straightforward and easy. Very little training has been required to get started with the intuitive testers -- a user manual has been enough," Jones added.
Compared to previous suppliers, Whitlock said it also found that service and support from Ideal Networks ensures that warranty repairs are carried out quickly, and are easy to coordinate. "When purchasing so many testers, cost efficiencies are vital. Ideal Networks products come at a better price point and with more competitive support," addrdf Whitlock's Wood.
"Overall, Whitlock's commitment to providing quality, state of the art AV installations for their clients with standardized test practices and efficient troubleshooting has made their choice of Ideal Networks testers successful at every level," concludes Ideal's Widdershoven.