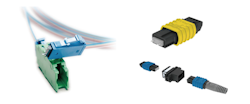 https://global-sei.com
Sumitomo Electric Industries, Ltd. and Senko Advanced Components have partnered to introduce the AirMT multi-fiber optical connectors. The AirMT is billed as offering an alternative to physical contact multi-fiber optical connectivity, as found in such formats as MPO connectors.
The traditional MPO connector, the partners observe, requires high spring force to achieve physical contact for MT-to-MT ferrules, and suffers from high sensitivity to dust contamination. This contamination problem is exacerbated by the difficulty in ensuring a pristine condition for the fiber endface, the companies add.
The AirMT offers an insertion loss of <0.5 dB and return loss of <55 dB (guaranteed in the FlexAirConnecT housing, one of two initial formats alongside MPO housing; see photo above), which Sumitomo and Senko say are comparable to the regular physical contact MPO connectors.
The fiber-optic connectors are based on a Sumitomo-developed noncontact multi-fiber optical ferrule technology that the company has licensed to Senko; the AirMT name is a jointly registered trademark of the two companies.
The partners see the AirMT fiber connectors finding use for in-equipment fiber management and backplane, as well as harsh environments with high levels of vibration. Learn more about the product.
The following evergreen video from the Fiber Optic Association (FOA) discusses the finer points of regular MPO multi-fiber array fiber optic connectors.