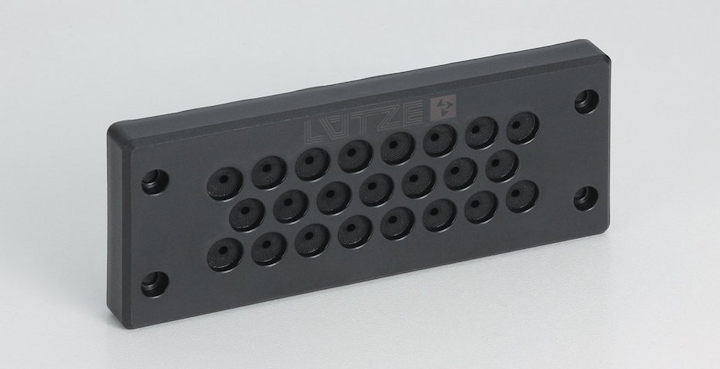 Lutze, Inc.
LUTZE Inc. has introduced its Cablefix X cable entry system, designed to complement the company's existing cable and cable management portfolio.
"Featuring multi-layered X-seal technology, Cablefix X is designed to simplify installation without compromising ingress protection. The system's X membrane seals are closed by default, eliminating the need to plug unused entry points. These innovative cable entry systems achieve Type 4X, 12 and 13 with a protection class of IP65," says LUTZE.
The Cablefix X is available with 12 or 23 entry points and offers a space-saving alternative to traditional cable glands. The Cablefix X requires only one enclosure cut out, and can be installed onto enclosures of any wall thickness with four mounting bolts. For enclosures with a wall thickness of 1.5mm, Cablefix X is available with a snap-in mounting option.
SEE ALSO:  Cable management clip streamlines installation, maintenance tasks
According to LUTZE, with the Cablefix X, cables install easily by pushing the end through the seal from the front, saving up to 50% installation space and 80% installation time vs. using individual cable glands. Compatible with all major control cabinets and electrical enclosures, the system's standard 112×36 mm cutout makes cabinet preparation easy. 
LUTZE Inc. designs and manufactures control products for factory automation and specializes in flexible industrial control and power cables such as the LUTZE Silflex, LUTZE Superflex, and DRIVEFLEX VFD cables. The company also offers grounding and wire management products, compact power supplies, its LOCC-Box - intelligent DC circuit protection device, LSC-wiring systems for control cabinets, and relays for industrial applications.
Located in Charlotte, NC, the company is part of the Lutze International Group. Founded in 1958, Lutze International Group has manufacturing and distribution operations in Germany, Austria, France, Switzerland, Great Britain, Czech Republic, China and the USA. Learm more at www.lutze.com.